UROP@CECS workshop: Future Scientist Trends
Daniel Himmelstein (@dhimmel)
2022-12-09 11:00
Vin University, Hanoi, Vietnam
College of Engineering and Computer Science
TBL - C305, Building C
slides.com/dhimmel/vinuni
slides released under CC BY 4.0
How to Become a Modern Open Scientist
event information (tweet)
Event ifno:
Within the scope of Undergraduate Research Opportunities Program (UROP), we are pleased to invite you to UROP@CECS workshop Future Scientist Trends.
Date & time: Friday, 9 December 2022 | 11:00am – 12:50pm
Venue:  TBL - C305, Building C, VinUni campus
College of Engineering and Computer Science

Abstract:
During his PhD studies at University of California, San Francisco, Daniel saw opportunities to increase scientific progress by adopting open and collaborative practices. He began efforts to reduce delays at scholarly journals, ensure publications are public & reusable rather than behind paywalls, and to make the process of science open to benefit from real-time global collaboration. Daniel will discuss how open science helped his career and how students at VinUniversity can apply similar techniques such that they will graduate with a public record of scientific contribution appreciated around the world!
Bio:
Daniel is Head of Data Integration at Related Sciences.
https://github.com/Rezmason/matrix
deep review contribution history
https://manubot.org/catalog/
Visualizing Hetionet v1.0
Hetnet of biology for drug repurposing
 
~50 thousand nodes
11 types (labels)
 
~2.25 million relationships
24 types
 
integrates 29 public resources
knowledge from millions of studies
Sci-Hub versus Penn Libraries
Penn Libraries spent $13.13 million on electronic resources in 2017

Average per-download cost of $1.61
326 toll access articles (manually checked)

Penn's access: 80.7%
Sci-Hub's database: 94.2%
https://github.com/greenelab/library-access
https://blog.dhimmel.com/plos-and-publishing-delays
2019-08-22_bgs-presentation.pdf
2019-08-23_all-of-my-secrets.txt

01.download-data.ipynb
02.process-data.ipynb
03.visualize-data.ipynb

Nice of you to share this big network with everyone; however, I think you need to take care not to get yourself into legal trouble here. … 
I am not trying to cause trouble here — just the contrary. When making a meta-resource, licenses and copyright law are not something you can afford to ignore. I regularly leave out certain data sources from my resources for legal reasons.
One network to rule them all
We have completed an initial version of our network. …
Network existence (SHA256 checksum for graph.json.gz) is proven in Bitcoin block 369,898.
Hetionet (

≤ v

1.0)

integrated data from 31 resources:

5 United States Government works

12 openly licensed

4 non-commercial use only

9 were all rights reserved

1 explicitly & contractually forbid reuse

Requested permission for 11 resources:

median time to first response was 16 days

2 affirmative responses

Other considerations:

who owns data

incompatibilities:

 share alike vs non-commercial

copyright status of data & fair use

Solution:

license attribute

per node/relationship
Legal barriers to data reuse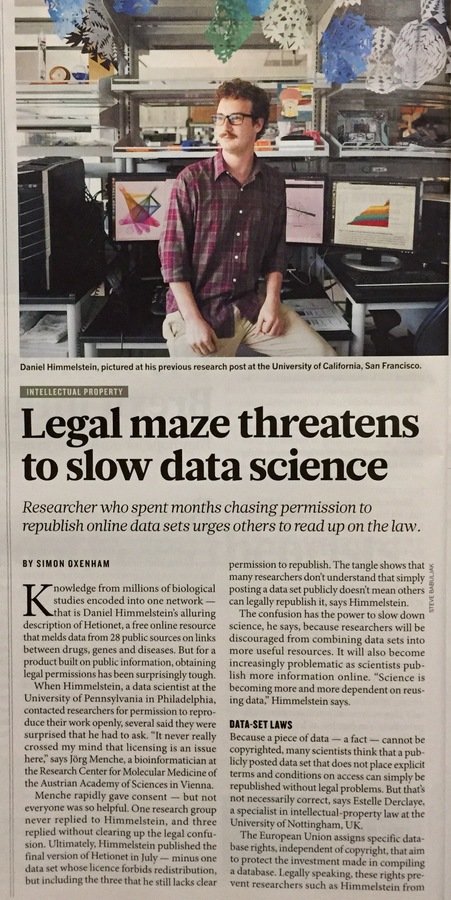 by default, scientific outputs subject to copyright
sometimes universities place additional legal barriers to reuse 
VinUni: How to Become a Modern Open Scientist
By Daniel Himmelstein
VinUni: How to Become a Modern Open Scientist
Presentation by Daniel Himmelstein at VinUniversity in Hanoi, Vietnam. This presentation is released under a CC BY 4.0 License.